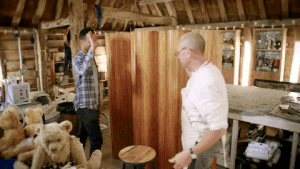 I just had an email telling me it was national upcycling day today.
Don't worry, I'm not going to start telling you which shade of gingham will look best on my favourite chair or what happened on the latest episode of The Repair Shop. It's definitely not my job; I'll leave that to the experts.
But with upcycling in mind, if you feel your business could do with an injection of life, perhaps with finance over the coming months, this is where I can certainly give you a bit of advice.
Here's how you can pay less for your finance in 2021.
Whether you need £20k or £4m, I'd recommend the following to help you avoid the stress and keep your interest payments as low as you can:
Don't leave it until the last minute. 
Firstly, I recently spoke to a client who wanted to arrange a £100k loan – easy peasy,  but they haven't filed the paperwork yet. Which has already cost them dearly; instead of paying 5% interest, they'll likely pay 8-14% interest because they're leaving it until when the cash is most needed, most likely when their bank statements look the weakest with a declining cash flow – leaving underwriters to believe they're more of a risk.
Don't apply to multiple lenders. 
Secondly, applying to multiple lenders has a huge impact on your 'financial footprint'. Leading any underwriter to feel cautious; are you wasting their time, are you desperate, why didn't you get this finance elsewhere etc?
Both of these leave doubt in the mind of lenders and can easily lead to possible turndown, or a much higher interest rate.
This is the same for many types of finance, including the new Recovery Loan Scheme. So, if you need that injection of cash without the hassle and extra pressure, perhaps it's worth having a chat?
Let the upcycling experts stick to old wooden pallets, let's focus on you.
We can run through your situation, helping you to avoid these pitfalls and matching you with the right lender to give you the best possible rates.
Give me a call on 07710466166 or book a call on Calendly .